FC Dallas West Texas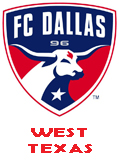 A core element of the Midland-Odessa Sockers FC's mission is our stewardship of the game of soccer for the youth in our community. With the RockHounds Professional Baseball Club, Midland-Odessa FC has always maintained a vibrant engagement with the Permian Basin, combining for more than 400 hours at community events annually and charitable contributions in excess of $200,000 per year.
In 2013, however, the team took an even greater step in its devotion by allying with FC Dallas West Texas. Featuring 19 teams and more than 400 players, FC Dallas West Texas is the largest competitive youth program in West Texas.
FC Dallas West Texas operates in a pyramid structure, with kids progressing through the various levels by age group. For the first time, Midland-Odessa Sockers FC are the pinnacle of that pyramid. Now, once talented players graduate from the youth structure, they have an outlet — with Midland-Odessa Sockers FC — through which to further their careers in hopes of playing collegiately or in Major League Soccer.
Under this unique partnership, the youth clubs will benefit from access to Midland-Odessa Sockers FC coaching, player and facility resources, as well as the opportunity to promote themselves at Midland-Odessa Sockers FC and RockHounds' games. Each club in the program also enjoys benefits from the FC Dallas MLS club, including local clinics conducted by FC Dallas staff. In some instances, Permian Basin youth players may even be invited to work with the "big league" team, an opportunity that would not be available without the Sockers and the leadership of FC Dallas West Texas.
The pyramid consists of three levels: the Academy base (for players 7-10 years old); the Club level for players aged 11-18; and the Super-20 tier, for players who have graduated high school. Upon graduation, players are also eligible to be selected to the Sockers' Premier Development League roster.
Through this strong relationship, both Midland-Odessa FC and FC Dallas West Texas are ensuring that every kid in West Texas has the opportunity to enjoy the sport and develop their maximum potential on the pitch.