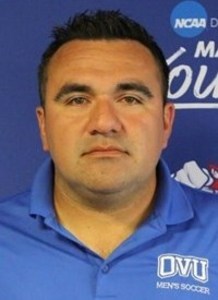 Sockers FC has announced that current Ohio Valley University Director of Soccer/Head Coach Luis Rincon has been named the team's head coach for the 2018 season.
"To be able to hire a coach with Luis' credentials speaks volumes for our club," Sockers FC General Manager, Soccer Operations Jeff VonHolle said. "We're so excited to have him on board and look forward to having him bring in top quality players to continue our strong program."
A native of Colombia, Rincon has been the head coach of the Fighting Scots' men's team since 2015 and began pulling double duty in 2017, as he took over as the head coach of Ohio Valley's women's team. He was named the Director of Soccer for the university's entire soccer program in the summer of 2016.
Rincon inherited a men's team that finished 0-17-0 in 2014 and in his three seasons thus far as the school's men's head coach, he has compiled an overall record of 37-17-6 including a 17-2-4 mark in 2017 to earn the program's first trip to the NCAA tournament. The Fighting Scots advanced to the third round and finished eighth in the final United Soccer Coaches Poll of the season.
On the women's side, he took over a squad that went 1-15-1 in 2016 and went 16-1-3 overall in 2017, as Ohio Valley won both the regular season and tournament championships in the Great Midwest Athletic Conference to earn the program's first trip to the NCAA tournament.
Prior to his current stint at Ohio Valley University, Rincon served as an assistant coach for both the men's and women's soccer teams as Texas A&M International University. The Dust Devils recorded a 41-20-10 record with Rincon on staff.
Rincon was a standout goalkeeper for Texas A&M International, as he earned All-Heartland Conference honors as a senior. He owns the record for most saves in a season for a goalkeeper in Dust Devils history with 108 in 2008.