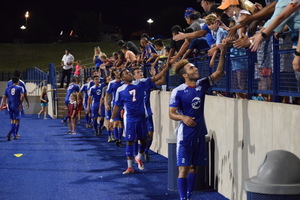 Lone Star Conference Announces Schedule Release
The National Premier Soccer League (NPSL) is proud to announce that the South Region's Lone Star Conference has released their schedule for the upcoming 2018 season.
"Having had Midland make it to the national final last year was an achievement for the Lone Star Conference, but it also means our conference has a lot of good competition," Shreveport Rafters Owner/GM Montgomery Cole commented. "Either way with three new additions and a new season, we are all shooting for the national trophy."
Regular season play in the Lone Star Conference begins on Saturday, May 5th and ends on Wednesday, July 4th.
The conference will be split into three groups. The top two in each group will advance to the postseason. The wild card round on July 7th will feature matchups between #3 and #6 and #4 and #5 with the higher seed hosting. The semifinals will take place on July 11th with #1 hosting the winner of #4 and #5 and #2 hosting the winner of #3 and #6. The conference final will take place on July 14th with the higher seed hosting.
For Sockers Season Tickets come by the front offices at 5514 Champions Dr. Midland, TX 79706.
You can download a printable schedule with the attached file below.