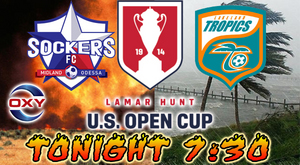 The 1st round of the Lamar Hunt US Open Cup begins tonight. To view the live video stream click HERE.
You can view other US Open Cup games by logging onto to ussoccer.com.
The Midland/Odessa Sockers FC are making their 2nd appearance in the US Open Cup and their first since 2015, where they advanced to the 2nd rd. The Sockers FC are coming off an excellent 2017 season as the defending NPSL South Region champs and look to start the season with a home opener win versus the Tropics of Lakeland Florida(1st appearance).
If the Sockers FC win they will host San Antonio FC of the USL next week on Wednesday May 16th, at 7:30.
For Tickets Click HERE