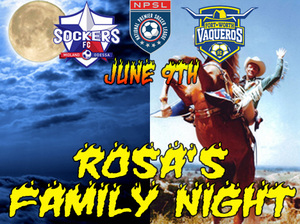 The Sockers FC seek revenge vs the Ft. Worth Vaqueros on Saturday, June 9th at 7:30pm at Grande Communications Stadium.
The Sockers FC are currently in 6th place in the division with a 2-2-0 record, while the visiting Ft. Worth Vaqueros are in 3rd place with a 3-1-0 record.
Ft. Worth Vaqueros beat the Sockers FC in Ft. Worth on May 19th 3-2. This is a pivotal match for the Sockers FC not only for a revenge game but also to help propel them into the division standings.
This will also be a Rosa's Cafe Family Night where fans can get 5 tickets for only $25.00, as well as buy one get one free Nachos.
To purchase tickets CLICK HERE