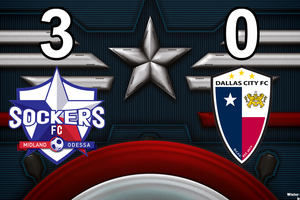 June 1st- The Midland/Odessa Sockers FC won a physical match up over Dallas City FC 3-0, in a game in which players on each side got ejected with red cards.
The first goal came in the 36' minute as the Sockers FC were setting up a corner kick. The ball ricocheted off of a Sockers player into a Dallas City FC player into the net Sockers led 1-0 at half time on an own goal by Dallas City FC.
In the second half, Dallas City FC were on their heels for most of the game. In the 72' minute Dallas City was on the attack. However the ball was stolen away by Andres Ruiz and he found a sprinting down the field Julio Vargas Luna with only one Dallas City defender back. Julio Vargas Luna was able to out manuever the defender and kick it into the left side of the goal just out of Dallas City goalie's reach.
The 3rd goal of the game came during stoppage time in the 90' minute. In similar fashion to the 2nd goal Dallas City desperate for a goal was short on defenders getting back. This time it was Ewan McGlaughlin who found himself in a one on one match up with a defender. He sailed a ball into the upper left corner of the goal post to put the nail in the coffin. This was another assist by Andres Ruiz.
Overall Sockers FC was frustrating the Dallas team all night long. Superb play by Midfielder Erwin Regules defensively and offensively. He played the entire match and never let the ball get by him. Regules had several steals and was key into keeping this match at a half of a field for the Sockers FC. Regules was announced as the Energy Sales Man of the Match.
The Sockers FC are now currently 3-0-1 to remain undefeated. They will next travel to face the defending Lone Star Champions the Laredo Heat, followed by Katy 1895 FC before returning home to host the Denton Diablos on June 13th.