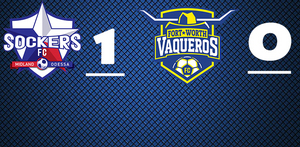 June 15, 2019
Grande Communications Stadium
Sockers FC 1, Forth Worth Vaqueros 0.
For the first 80 minutes, Sockers FC squandered several scoring chances to take the lead.
But in the 84th minute, Ewan Mclauchlan slotted home a pass from Trevor Amann to lift the Sockers over Fort Worth 1-0 Saturday night at Grande Communications Stadium.
Throughout the match the Sockers applied great pressure but could not find the back of the net. The Sockers held the edge in shots (13-8), and shots on target (6-4).
The late goal gave Fort Worth its first loss in Lonestar Conference League Play.
Sockers FC picked up its 6th shutout of the season, in large part to Lukas Betz who made four brilliant saves on the night.
Sockers FC will next take on the Vaqueros in a rematch on June 27th in Fort Worth.