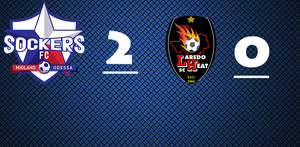 July 4, 2019
Grande Communications Stadium
Sockers FC 2, Laredo Heat 0.
Sockers FC picked up a massive three points at home in a convincing 2-0 victory over the Laredo Heat Thursday night at Grande Communications Stadium.
The Sockers created chances early and often and it paid off in the 28th minute.
Erwin Regules got the Sockers on the board with a well placed shot into the right hand corner of the net. Ewan Mclauchlan's shot was originally blocked but the ball deflected right to Regules who calmly put the ball in the back of the net.
The Sockers would go on to largely dominate the match, outshooting Laredo 25-9 on the night.
Midland-Odessa would put the match away in the 83rd minute on a Julio Vargas Luna goal. An Andrew White shot hit the crossbar and deflected to Luna who would fire home.
Goalkeeper Lukas Betz did not have a ton to do in the match but came up huge for the Sockers when they needed him most. The Laredo Heat were awarded a penalty in the 86th minute on what appeared to be a Sockers handball.
Betz made a diving save to his right to preserve the two goal cushion and the shutout.
Sockers FC will take on Tyler FC in the regular season finale on Saturday, July 6th at Grande Communications Stadium.