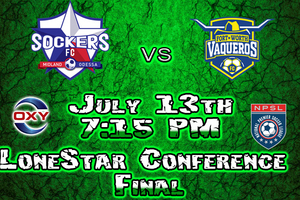 The Sockers FC welcomed back Dallas City FC with a ravaging beat down. In a match that was delayed 50 minutes due to lightning in the area. But the lightning that struck at Grande Communications Stadium came from the Sockers FC. Julio Vargas struck 3 times to complete a hat trick scoring in the 27", 77", and 87" minute of the match.
The Sockers FC attacked early and built up an unsurmountable lead by taking a 4-0 lead at half-time. Bonatto scored in the 10" minute, followed by Ewan McGlaughlin in the 21", followed by Andrew White in the 24", the Julio Vargas in the 27". The Sockers FC quickly diminished any hopes that Dallas City would have of competing for a LoneStar Championship.
The Sockers FC will host the LoneStar Championship Match versus the Ft. Worth Vaqueros on Saturday July 13th at 7:15pm at Grande Communications Stadium. The Sockers FC and the Ft. Worth Vaqueros have played twice in the reguler season they defeated the Ft. Worth Vaqueros at home 1-0 on June 15th, then tied them in Ft. Worth 0-0. Both matches were very physical and intense. When they meet for a 3rd time this Saturday the intensity and physicallity should be even more so.