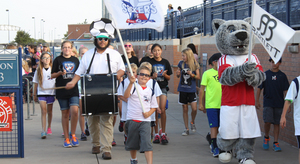 History in the Desert: Sockers Destroy Patriots, 2-0
EL PASO, TX—Led by midfielder Kal Herbert and goalkeeper Nicholas Petolick, Sockers FC (2-4-1, 7 points) earned a convincing 2-0 road win over the El Paso Patriots (1-4-1, 4 points) on Saturday night at the Socorro ISD's Student Activities Complex.
Facing the Patriots for already the third time this season, the Sockers continued their impressive run in that stadium, as they have now claimed consecutive 2-0 wins in El Paso dating to 2012. Prior to these two thrashings, the Sockers were 1-6-0 all-time at the SISD stadium.
This marks the first time in franchise history that the Sockers have earned consecutive road wins in El Paso and posted consecutive road shutouts in any team's stadium.
Just one week earlier, the Sockers beat the Patriots, 3-2, at Midland's Grande Communications Stadium in the first matchup between the clubs since the Patriots hired a new head coach from Mexico's elite First Division and signed several new players.
In the 14th minute, Herbert netted his second goal of the year, driving home a low line-drive from 11 yards out, after being set-up by forward Joe Munoz. Herbert now leads the Sockers with five points.
Stellar goalkeeping from Petolick (five saves) kept El Paso off the board, and forward Andres Maldonado clinched the victory with a successful penalty kick conversion in the 78th minute.
With the win, the Sockers moved into a three-way tie for third place in the PDL Mid-South division with the Laredo Heat and Houston Dutch Lions. The Sockers now have a 14-day break before returning to El Paso on June 22.