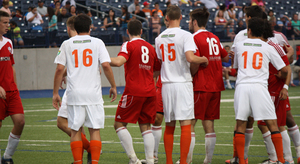 Mid-South Division "Heats" Up with Laredo Coming to the Permian Basin
MIDLAND, TX—Just five days removed from the most dominating victory in franchise history, Sockers FC (3-4-1, 10 points) hosts their archrivals, the Laredo Heat (4-2-1, 13 points), on Thursday night at Midland's Grande Communications Stadium.
Third place in the Premier Development League's Mid-South division is on the line, a Sockers win would tie them Laredo and move them just three points behind Oklahoma City FC for the division's lone wild card playoff spot. The Sockers have not finished in third or higher since their inaugural season in 2009.
In a seven-game stretch from June 5-July 7, this match marks the Sockers' only home appearance. Despite having to play six of seven on the road in that time, the Sockers have roared to a 3-1 start, including consecutive shutout victories over the El Paso Patriots.
Goalkeeper Nicholas Petolick has started each of the four matches, with a 1.85 goals against average over that time. Offensively, the Sockers are led by Len Smith III, the team leader in goals (5) and points (11). Smith is just three goals away from the Club's single-season mark, set by Joe Munoz in 2009.
The Heat are the four-time defending PDL Mid-South champions and have played in the PDL Championship Match three times in the last six seasons. Like the Sockers, they will enter the match with a 3-1 record in June, having beaten the Sockers in Laredo on June 5 and also picking up home wins over the Patriots and Houston Dutch Lions.
Laredo is led by forward Daniel Garza, whose 13 points are tied for 14th in the nation (6 goals, 1 assist).
This match is a "Thirsty Thursday," so fans will enjoy half-price beverages throughout the game, and the first 250 kids will receive a free youth jersey. Tickets are on sale now and may be purchased online, in person at Citibank Ballpark, or over the phone at 432.520.2255.
RUN WITH US…SOCKERS FC