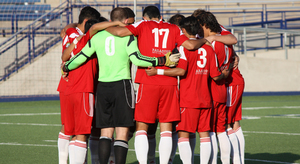 Draw in the Desert: Sockers, Laredo End in 1-1 Tie
MIDLAND, TX—At kickoff of the Sockers FC match on Thursday night, the scoreboard temperature read 102 degrees. It is likely, though, that the temperature on the field was even higher when the game concluded.
Amidst boiling tempers from both sides, the Sockers and Laredo Heat ended in a 1-1 draw at Grande Communications Stadium.
With the tie, the Sockers (3-4-2, 11 points) missed opportunities to move back to .500 on the season as well as move into a third-place tie with the Heat (4-2-2, 14 points) in the Premier Development League Mid-South division.
After two road losses to the Heat, Thursday's game was the first chance for the Sockers to face their archrivals at home this season. The match was physical from kickoff, with 11 combined fouls called in the first half. Despite nine shots in goal in the first 45 minutes, the Sockers could not capitalize—missing multiple great scoring chances—and the match was a scoreless tie at halftime.
Just eight minutes after he entered the match, Sockers forward Juan Nava put the team on the board with his second goal of the season off of a nifty centering pass from midfielder Ricardo Chinchilla. The lead held until the closing seconds of stoppage time, when Laredo defender Felipe Souza loosed a shot from 25 yards away, narrowly slipping the ball under the crossbar and over the outstretched arms of Sockers goalkeeper Nicholas Petolick.
After that goal, several Heat players were given yellow cards for leaving the bench.
The final 10 minutes of the match featured several stoppages because the teams engaged in multiple scrums across the fields, usually without intervention from the referees.
Overall, the Sockers controlled the offensive pace of the game, outshooting the Heat, 16-5. Petolick need to only make one save throughout the night. The Sockers could have added two more goals in the first half, as open shots beat Heat goalkeeper Emmanuel Frias but sailed just wide of the goalposts.
After this brief stop at home, the Sockers continue their long stretch away from Midland with their next three matches on the road. The trek begins Saturday, June 29, in Oklahoma City.
The Sockers return home on July 18 to face the Austin Aztex on a Thirsty Thursday—half-price drinks at the game! Tickets are available now and can be purchased over the phone (432.520.2255), online (sockersfc.org), or in person at Citibank Ballpark.
RUN WITH US…SOCKERS FC