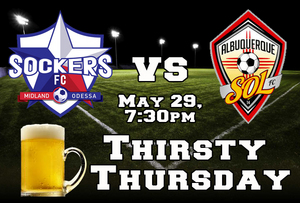 The SockersFC defeated the Albuquerque Sols 2-1 in Albuqureque in front of a crowd of 1,500 on Saturday May 24th.
This is the first victory for head coach Matt Barnes in the PDL league.
Via Twitter: "Won my first game in the PDL! What a feeling!!! So hard to come by- enjoying every minute Thnx for the luv Chaps!"-Matt Barnes
The Sockers are now 1-2-0 and with this victory one can only hope that this propels the Sockers FC team to more victories ahead.
The Sockers will host the Albuquerque Sols, this coming Thursday on May 29th, at Grande Communications Stadium at 7:30. This will be a Thursday Thursday and all beverages will be half off.
Purchase tickets here.