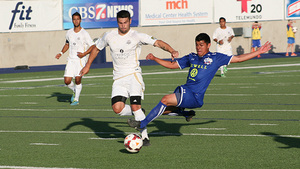 The Austin Aztex (4-0-0) needed late game heroics to dispatch the Midland/Odessa Sockers and were able to turn to Chuy Cortes to seal the win.
Cortes, who scored the game-winning goal versus the Sockers on May 17, came up with another long-range strike to give the Aztex the win in front of a season-high crowd of 1,971 at House Park.
The Aztex would find themselves in a hole early in the game when the Sockers forced a turnover in the middle of the field. With their quick, counterattacking style, the Sockers made their way up the field, where Tanner Brock found Rory Knibbs with a pass on the left side. Knibbs curled the ball around Aztex goalkeeper Devin Perales.
The Aztex nearly equalized on minute later when Andres Cuero got his head on a cross for a strong shot, but it went just over the crossbar.
The Aztex looked to prevent the Sockers from adding to their lead and win the battle for possession. Midfielders Andres Cuero and Tony Rocha worked hard to swarm the Sockers attack in midfield. Meanwhile, defender Kalen Ryden had a tall order to contain the physical playing style of Sockers forward Tucker Hume.
The Aztex attack was unable to find the net in the first half despite 13 shots. However, the Sockers defense cracked early in the second half.
The Aztex were able to tie the game in the 49th minute when Tony Rocha threaded a pass through Midland's center backs to find Adam Black. Black raced to the ball and beat Sockers goalkeeper Clint Long with a shot to the right side of the goal.
"At halftime we were down and coach just kept us to keep fighting," Ryden said. "With an early goal in the second half we wanted to step on them in the first fifteen minutes. After that, we just stuck to our game and kept pressing."
The Aztex continued to look for the next goal to seal the game. In the final moments of the game, Chuy Cortes continued his late game heroics. Bubacarr Jobe set up Cortes with a shot from 20 yards out and Cortes ripped the shot past a sprawled out goalkeeper.
The Sockers (1-3-1) next home game will be on Saturday, June 7th to take on the Houston Dutch Lions. The first 500 fans will receive Sockers' soccer socks.