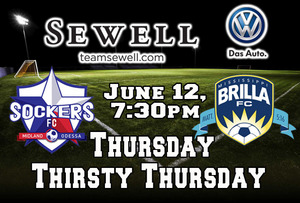 The Sockers FC defeated the Houston Dutch Lions 4-2 Saturday night at Grande Communications Stadium in front of a crowd of 695.
Tucker Hume and Rory Knibbs combined with two goals a piece to overwhelm Houston. The Sockers FC scored the first goal at the 31 minute mark by Tucker Hume, assisted by Rory Knibbs. The Sockers continued playing aggressive and scored another goal at the 38 minute mark coming out of a corner kick. This time it was Tucker Hume who assisted Knibbs for a header, giving the Sockers FC a 2-0 lead at half-time.
At the start of the second half the Sockers continued to attack. Rory Knibbs scored his second goal of the night at the 52 minute mark as Mario Alvarez was able to find him open.
Almost immediately following the previous goal, Tucker Hume scored his second goal of the night on an impressive 25 yard assist by Conrad Goulbourne. This put the Sockers up 4-0 and put the game out of reach for the Dutch Lions.
This is the second victory for the Sockers FC and their first win at home. The Sockers now have 7 points for the season and only trail the Laredo Heat and Mississippi Brilla by one point for second place and a spot for the playoffs.
The Sockers(2-3-1) will face off against the Mississppi Brilla (2-2-2) here at Grande Communications Stadium. For a Thirsty Thursday game at 7:30. All beverages will be half off.
Click here for tickets.