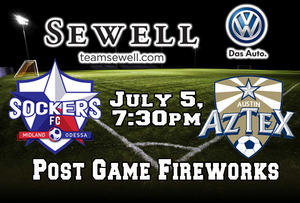 PDL Game Report
Friday, June 27, 2014
CLINTON, Miss. -- The Midland/Odessa Sockers took a 2-1 victory against the Missisippi Brilla on Friday night at Clinton High School to remain in second place in the PDL's Mid South Division. Conrad Goulbourne had a goal and assist to lead the Sockers to their fifth victory of the season, which moved them five points ahead of the third-place Laredo Heat in the race for the playoffs.
The Sockers had taken victory against the Brilla in their previous two meetings earlier in the month, and picked up right where they left off as they openwd the scoring in the 5th minute when Goulbourne ran right past the Brilla defense and placed his shot into the corner of the Brilla net.
Neither team was able to crack the net again for the rest of the first half, but the Sockers controlled most of play, keeping the Brilla pinned back in their own half and forcing several incredible saves out of Brilla's goalkeeper, Carl Blundell.
In the second half, it was more of the same. Blundell made one spectacular save after another, totaling 14 for the match. However, in the 71st minute, the Sockers found a way to get one past him when Goulbourne's cross found the head of Ricardo Yeverino, who nodded it down into the Brilla net.
Mississippi pulled a goal back in the 88th minute when Sockers goalkeeper, Jason Babyack, was unable to hold a Phillip Buffington shot. The rebound fell to Len Smith who tapped in from close range to bring the home team within a goal.
It was all too late as Brilla was unable to find a second goal and the Sockers hung on for the victory.
The Sockers FC (5-3-2) will travel to Houston (1-5-2) Sunday night at 7:30 CST before heading back home on Saturday to take on the 1st place Austin Aztex (8-0-1) on July 5th for the last home game of the regular season.
July 5th will take place at Grande Communications Stadium at 7:30 CST, the game will feature an independence day post game fireworks show. For tickets click here.