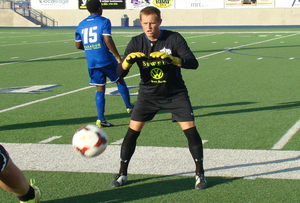 Back in February when Matt Barnes and Sockers FC announced the first four players joining the team this year, their soon to be goalkeeper was sitting in class along the West Coast. The first goalkeeper in Sockers FC (SFC) history from the West Coast made the trek down here to Midland from Turlock, CA to try to secure the area between the posts for the Sockers. So far this season Clint Long has impressed not only his teammates and coaches, but the fans here as well, with his acrobatic saves and smart decision-making. The California Kid has helped lead the Sockers to their best season thus far in the PDL. This season, SFC is 3-3-1 with Long in the net, saving 22 shots and registering one shutout. Even with all of his talent, Clint was unable to save himself from sitting down with me and answering a few questions.
Clint you come from California, can you tell me how West Texas has been different so far? It's a lot different. It's not as green here. There is no humidity and it's far from the coast. The biggest difference, though, has been how dusty and flat it is here.
Does the humidity, dustiness, and the other factors affect your game? Not so much. The wind really does. It really picks up a lot at night, so during our night games it really plays a little bit of a factor for each side.
You played two seasons at Oregon State and you currently play at Cal State-Stanislaus, how did your time at a Division I program help you develop as a player? I played with some really top-notch players. The year before I got there, the number one draft pick [in the MLS] was from there. He came back a lot and played with us, so we were playing with some really quality guys. My second year someone else went pro. Playing with a lot of quality strikers, both of those guys were strikers. Playing against that kind of quality really helps, especially to transition to Cal State-Stanislaus and now here.
How has being here with Coach Barnes and Coach Dowling, who does most of the goalie coaching, helped you develop your game? Huge. Having someone younger to the game like Coach Donovan [Dowling] has really helped because he understands a lot of the things we go through since he is recently out of the game. He provides a lot of new viewpoints and really helps me develop as a keeper.
You guys have spent the last three months together. Y'all spend a lot of time together, living together, practice all the time, you go out and eat together, how have the guys on the team made this a little bit easier? You have to get along with all the guys, especially when you have 7 or 8 in a room. We get really close and it's a lot of fun. Everyone is real easy to be around, and we are all here for the same reason: to have a winning soccer team. Everybody wants to be here, so that makes it easy.
Who would you say is the funniest guy on the team? It kind of depends; the twins don't stop talking, but Rory is pretty funny. Rory's got jokes, his one-liners.
What do you do when you are not on the pitch? I coach soccer, when I can, part-time at school, and I really enjoy that.
Is that the direction you are heading with your degree? Not necessarily, my major is communication as well as a business major. I didn't really know what I wanted to do growing up, and I'm still not sure. But I got into coaching, and I'm starting to really like it. So maybe whenever I am totally done playing, doing a graduate assistant position or something like that may be in my future.
Who has been your biggest inspiration as a soccer player or off the pitch in life? On the soccer side, I had a couple of assistant coaches really help me out. One of the assistants at Oregon State, now the coach at Embry-Riddle, Coach Adam Peters, as well as Morgan Cathy at Cal State-Stanislaus made a big impact. Then my dad, obviously, for really supporting me and helping me drive down here, which is at least 22 hours in a car.
Who is your favorite player? That is tough. On the goalkeeping side, I would have to say Neuer [Germany and Bayern Munich's goalkeeper], and then I really like [Michael] Bradley. So I was a little let down by his performance in the World Cup.
I have to ask because it is the question the fans want to know the answer to. How did you lose your teeth? Well, I've actually got three fake teeth now. I lost one at Oregon State, but that one was fixed. Then, the first game of the season last year, two of them got knocked out. Well, they got pushed back, but they had to pull them out because the roots were too small. So I've been rockin' the "no teeth thing" for a while.
I think this leads into the next question, but what is your favorite food? I love steak and cookies. Start with steak, end with the cookie. Any particular cookie? Definitely chocolate chip. Either homemade or Albertson's has some pretty good Easter special cookies right now. He has been chowing on them lately (points at teammate/roommate/jokester Rory Knibbs sitting alongside him), and I guess I have too.
What has been the best part of West Texas for you? Obviously, the organization we are in is amazing. The support we get from the RockHounds/Sockers and the owners has been eye opening to see how much they want us to succeed. Then, just getting to meet so many guys from all over. I didn't know this guy [Rory Knibbs], and he only lives an hour and a half from me. It's been cool, a lot of guys from different countries, so the World Cup has been a lot of fun.
Where does your career go from here? Well I've got one more season left in the fall. Hopefully I have a good season, its senior year, and it will jumpstart me into the combine and get some tryouts.
On the pitch, 22-year old Clint Long is fearless. He risks everything, even his chompers, to get the "W." With a lot of experience under his gloves and even more desire to win, Clint will be a leader for Sockers FC on and off the field as they push for the first playoff berth since 2009 and second overall in Franchise history. With two games remaining and points a delicacy, goalkeeping will be key to playing past July 13th. Whether he is in the starting 11 (he has split time with Jason Babyak this season) or a reserve, "Ruthless Toothless" Clint Long will have the same task: find a way to help the team get a victory.