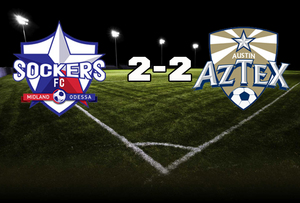 The Sockers FC and the Austin Aztex played to a 2-2 stand still in Austin Texas Friday Night.
The Sockers are now (6-4-3) and 3 points ahead of the Laredo Heat who are (5-4-3).
The Sockers next game will be against the Houston Dutch Lions, a win will put the pressure on the Heat, meaning the Heat would have to win outright in there next 2 games against the Mississippi Brilla and the Houston Dutch Lions.
The Sockers opened the game with many opportunities and finally broke through in the 28 minute with a goal by Rory Knibbs. At half-time the SockersFC were leading 1-0, in a playoff atmospheric game.
The Sockers then opened up the 2nd half when Walker Hume scored a goal in the 48' minute of the game. It was 2-0 Sockers and the Sockers could smell a playoff birth.
But the Aztex got their team together, remained poised and proved why they are the 1st place divison champs of the Mid-South Division.
The Aztex rallied back and scored a goal in the 80' minute cutting the lead in half at 2-1. The game reached the 90th minute and the Sockers just needed to hold on for victory.
However, with 5 minutes of extra time to be played in the game the Aztex found away to tie the game thus, preventing the Sockers FC for what would have been a key victory for the playoffs.
But the Sockers will have to settle for 1 point and the result. They will have a crucial last game agains the Houston Dutch Lions in Houston on Sunday, July 13th at 7:30. It is a must win game for the Sockers and their last game of the regular season.