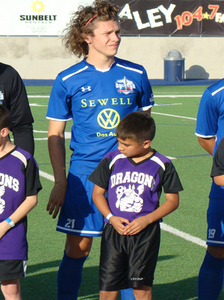 Rory Knibbs, 19- year-old forward for the Sockers has had to adjust quickly to new situations over the past couple of years. Knibbs is from London, England and came to the United States almost a year ago.
"I was recruited," Knibbs said, "there's an agency called Pass for Soccer in England and they have scholarships. I wanted to come to California, that was my main priority."
Knibbs got his wish to go to California and is now going into his sophomore year at San Jose State. In 2013 alone, the freshman scored eight goals and had 18 points. In nine games as a Socker, he has scored five goals with 12 points.
Of course, West Texas and London, England have their differences. He said one difference is the heat, but also said the California conditions are similar, just with less dust. Knibbs said that London and California are both very busy and fast paced, but he doesn't mind that Midland is much smaller.
"I like doing nothing," Knibbs said. "I'm a lazy person so it doesn't bother me. "
Being so far away from home can be tough, but Knibbs said he has a great support system.
"My mum speaks to me every day," Knibbs said, "because I'm a bit of a mummy's boy. But she and my dad and my brothers are coming out soon."
With the World Cup coming to a close on Sunday, Knibbs said it has been very competitive amongst the team over the last month or so.
"England did dreadful, which they do every year," Knibbs said. "I was kind of supporting the US after England got knocked out; just trying to support the underdog most of the time and wind people up."
Even though Sockers FC is comprised of players from all over the United States and the world, they have become very close. Knibbs said that is one of the things he will miss the most when he heads back to San Jose State.
"The whole team gets along so well," Knibbs said. "You don't really get in many situations where a big group of people are living so close and are together all the time."
Knibbs said he didn't expect to play much for San Jose State or Sockers FC.
"I came here with no expectations to play, just to improve," Knibbs said." But as I've gone on, my confidence has just gotten higher. So just creating chances has made me confident to go back to college especially."
When asked about the most exciting moment so far this year, Knibbs said he was actually on the bench.
"The most exciting moment for me," Knibbs said, "was when we came back in the game against Mississippi and Richie [Yervino] scored in the last five minutes or so and won us the game 3-2, which was exciting for us, just keeps us in the run for the playoffs."
The Sockers are still in contention for the Premier Development League playoffs, with their destiny resting in the hands of the Houston Dutch Lions and the Laredo Heat, who play on Saturday, July 19. As long as the Dutch Lions win or tie, Knibbs and the rest of the Sockers advance to the playoffs.