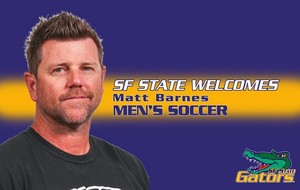 SAN FRANCISCO – SF State Director of Athletics Charles Guthrie is pleased to announce the hiring of Matt Barnes as the head coach of the Gator men's soccer program. Barnes comes to SF State from Lubbock Christian University in Lubbock, Tex., where he served as the head coach since March 2013.

"I am most happy to welcome Matt (Barnes) to the Gator family," said Guthrie. "I have watched his good work from afar and have been impressed with not only his success in regards to competition but also how he has managed his program. I believe he is a great fit and I am excited for the future of our Gator men's soccer program."

Last season Barnes turned around the men's soccer program at Lubbock Christian, he guided the Chaparrals to an 11-5-1 record, including an 8-1 mark in the programs inaugural year as a member of the Heartland Conference. In 2013, the Chaparrals finished in first place in the conference, while recording the fewest yellow cards in conference. This past season, the Chaparrals defeated three nationally ranked teams, while receiving the program's first ever regional ranking.

"I'm absolutely thrilled to be joining the athletic department at SF State," said Barnes. "After extensive discussions with new SF State Director of Athletics Charles Guthrie and Vice President Robert Nava, I'm convinced that the university is headed in the right direction with its renewed commitment to the student athlete's experience at SF State."

Barnes also coached the program's first Chaparral to receive NSCAA All-America accolades in Billy Forbes. He was the only NSCAA All-America honoree representing a Heartland Conference program. Forbes signed a NASL contract with the San Antonio Scorpions.

"I would like to thank Mr. Guthrie for his confidence and enthusiasm as it's been incredibly contagious," added Barnes. "The men's soccer program, specifically can expect to be challenged on a daily basis, and will ultimately be looking to chase down the competitive and talented CCAA landscape. Thank you, Mr. Guthrie and the administration of SF State for the chance to be part of something special."

While at Lubbock Christian he also served as a head coach for the Sockers FC, a member of the USL Premier Development League. There he managed and directed all soccer operations of a USL PDL franchise; including player evaluation/identification, amateur contract offers, while running and operating all summer camps. The 28 player roster was primarily composed of NCAA DI and DII athletes. This past summer, the Sockers FC finished the regular season with a 7-4-3 record and scored 26 goals and allowed 19. Their goal differential of +7 is the best all-time in the team's history. Their goalkeeper, Jason Baybak had a 1.076 goals against average, which is the lowest in team history.

He came to Lubbock from Prescott, Ariz., where he served as the head coach of the men's soccer program at Embry-Riddle Aeronautical University. In two seasons at the helm of the Eagles, Barnes had a coaching record of 23-11-6. He took over the Eagles in 2011 and helped lead them to a 9-8-3 record and to their first postseason win in program history. In 2012, the Eagles went 14-3-3 and finished the regular season ranked No.16 in the NAIA (finished No.21 in the final postseason poll). They claimed the California Pacific Conference title last season and earned a trip to the NAIA National Championship, where they fell in the opening round to No.13 Concordia. The CalPac honored Barnes with the conference's Coach of the Year accolade. Embry-Riddle ranked 11th in total goals in 2012 (69), with a per game average of 3.5 ranking ninth in the NAIA. Barnes coached two NAIA All-Americans last season and his team also received NSCAA Academic Team honors.

He has spent nearly 20 years coaching career has seen him be successful at every level possible. Barnes also coached at the high school level in California (Centennial High School, Stockdale High School), where his teams claimed three CIF championships and three CIF Coach of the year honors. At the collegiate level, he served on the staff at Cal-State Bakersfield, and was an integral part of their 1997 NCAA National Championship and California Collegiate Athletic Association conference championship.

A 1994 graduate of Judson University, Barnes was part of two NCCAA National Championship squads (1991, 1992); he was named NCCAA All-American, NAIA All-Region, and twice named NIIC All-Conference. Barnes was strong in the classroom too, claiming academic honors in the NCCAA and the NAIA, including Academic All-American honors. He holds the NAIA single-game record for points (20) and has the second highest NAIA single-game total for goals with eight in a game. He was voted Judson University Student-Athlete of the Year, and in 2009 he was inducted into the Judson University Hall of Fame. Following his collegiate career, Barnes played professionally for the Rockford Raptors of the USISL for a season before hanging up his boots to begin coaching.

Barnes has as B.A. in Physical Education and General Science from Judson University, and a M.S. in Special Education from National University in La Jolla, CA. Outside of his LCU duties; he is also a head coach in the USL-PDL during the summer months in Midland, Texas for Midland Odessa Sockers FC. He is married to Morgan and has one child, Monroe.